Obi wan Kenobi apresentou aos fãs alguns novos rostos durante seus seis episódios no Disney +. O novo personagem mais proeminente que o programa apresentou foi Reva, a Terceira Irmã, de Moses Ingram. Reva passou a maior parte do show rastreando Obi-Wan Kenobi de Ewan McGregor, usando a Princesa Leia de Vivien Lyra Blair para atraí-lo. Eventualmente, foi revelado que seu ódio pelo Mestre Jedi se originou durante a Ordem 66, quando ela era apenas uma jovem.
O final viu Reva procurando Luke Skywalker, apenas para o Inquisidor devolver o menino de volta às mãos de Owen e Beru e dizer a Obi-Wan que ela não queria se entregar a Vader.
A história de Reva em Obi wan Kenobi foi deixado em aberto, mas isso nem sempre foi o caso. Detalhes da trama cheios de spoilers rumores antes do final do programa que o destino de Reva foi alterado para acomodar uma segunda temporada. Agora, um dos escritores do projeto revelou exatamente o que a Lucasfilm havia planejado inicialmente.
O destino original de Reva em Obi-Wan Kenobi
Em uma entrevista exclusiva com Nathan Johnson, do The Direct, Obi wan Kenobi escritor Stuart Beattie discutiu os planos originais para o arco de personagem de Reva no rascunho de seu Obi wan Kenobi filme.
Quando perguntada se Reva estava nos primeiros rascunhos do roteiro do filme, Beattie disse "Ela foi minha criação… Eu criei Reva até o fim." Ele continuou discutindo a visão de Reva sobre os Jedi como vilões e como o personagem originalmente não tinha conhecimento de Anakin ser Darth Vader:
"Sim, exceto que a única pequena diferença na minha era que ela não sabia que Darth Vader era Anakin. Porque eu estava tipo, 'Como ela sabia disso?' Tudo o que ela viu foi Anakin como Anakin porque ele ainda não havia trocado de roupa, certo? Então Anakin matou seus amigos, colocou a cicatriz nela, quase a matou, a deixou para morrer, basicamente. Então, em sua mente, o Conselho Jedi eram os maiores vilões da galáxia. Ela acreditou nas mentiras de que eles estavam tramando um golpe para ultrapassar e obter o poder e tudo isso, mas eles foram impedidos pelos Clones. Então ela acreditava que era por isso que ela estava caçando Jedi, porque ela acreditava no Jedi são os piores, basicamente."
Beattie passou a falar sobre o destino original de Reva, com a história terminando com ela morrendo nas mãos de Vader para salvar Obi-Wan:
"Porque eu pensei, 'Como ela saberia que essa coisa em um traje mecânico que todo mundo chama de Darth Vader é o cara que a matou, ou tentou matá-la?' Então, foi Obi-Wan meio que deixando ela saber desse segredo e daquela revelação que a fez pensar, 'Oh meu Deus, eu estive errado esse tempo todo.' E então ela vai e basicamente salvou Kenobi se sacrificando, dizendo a Vader, 'Eu matei Kenobi.' E então Vader a matou, [with her] sabendo que Vader a mataria. Então, isso meio que completou seu arco. Então, um pouco diferente que ela era, sim, absolutamente, a Inquisidora caçando Kenobi por todo o caminho e conduzida por seus próprios demônios pessoais."
Beattie também mencionou que enquanto ele achava que a Terceira Irmã tinha um papel vital a desempenhar na história, ele "senti que ela tinha que morrer:"
"Sim, morta por Vader no final. Sim, eu queria essa história, eu queria que a história dela terminasse. Eu queria que Reva desempenhasse seu papel na história de Kenobi-Vader, que era, essencialmente, no final, ela foi o que permitiu que Vader, basicamente, disse a Vader para parar de caçar Kenobi. Você sabe, ela acabou com a obsessão que Vader tinha por Kenobi. Ela alegou que acabou, está feito. Então esse era o papel dela. E ela ' tinha feito tantas coisas terríveis, eu senti que ela tinha que morrer [laughs]. Você só pode resgatar tanto."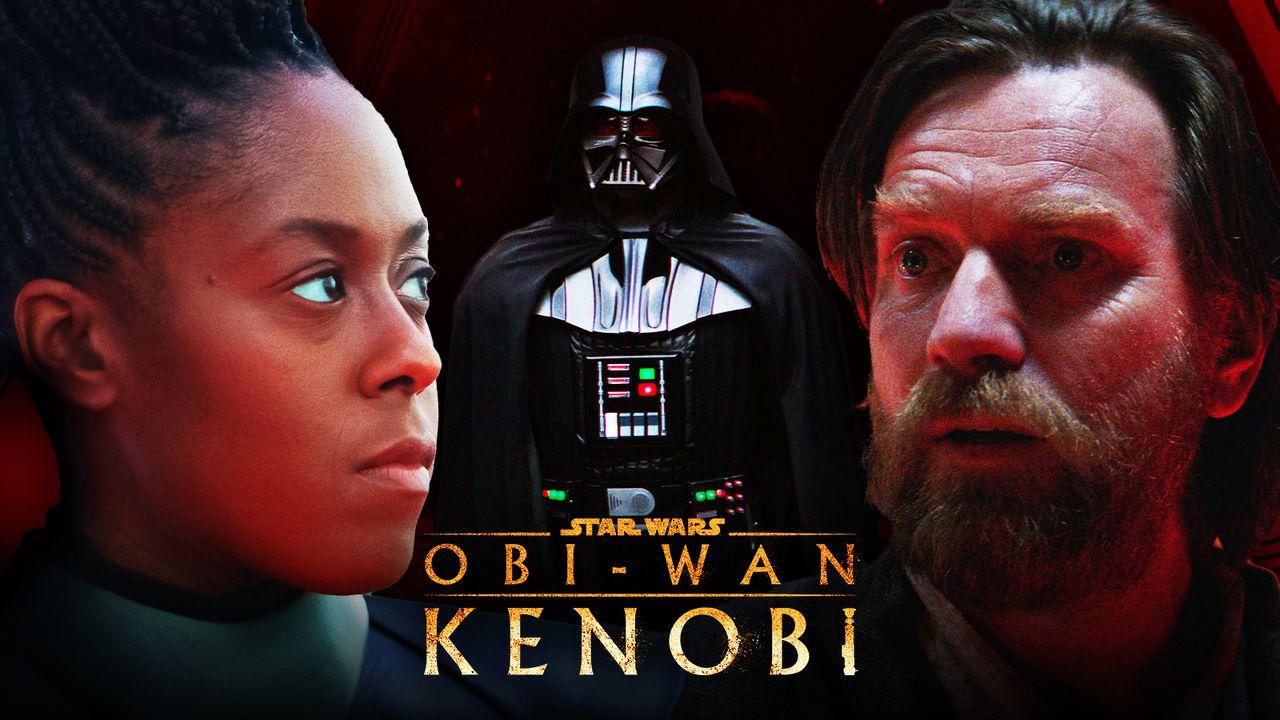 O escritor também confirmou que os planos originais para Obi wan Kenobi não incluiu os outros Inquisidores, apenas Reva:
"Então, nenhum outro plano para incluir outros Inquisidores… Eu sabia que queria Darth Vader, obviamente, como o grande vilão geral desta história, e eu o vejo como um antagonista que seria mais cara-a-cara com Obi-Wan durante todo o show. Então Reva realmente foi o resultado disso, eu sabia que precisava desse personagem."
Beattie continuou descrevendo como explorar as consequências da Ordem 66 ajudou a informar o caráter de Reva e "levá-la a um lugar de compreensão:"
"E, claro, há tantos grandes personagens de The Purge, The Great Purge of the Temple e tudo mais, era como, 'Ok, vamos ver o que ela estava fazendo no Purge. E se ela visse tudo o que aconteceu? E se… Anakin/Vader a matasse, a deixasse para morrer e a mandasse por esse caminho? Então todo esse tipo de coisa meio que fazia sentido e me permitia criar um personagem muito confuso, conflitante e cego cheio de ódio e raiva e todas as coisas que fazem as pessoas quererem ser Sith e Sith Acólitos. E levá-la a um lugar de compreensão. Entender a verdade, entender quem é Obi-Wan, quem Vader realmente é e qual é o caminho dela na galáxia ."
o Obi wan Kenobi escritor também tocou na luta de trazer apostas para um projeto prequel envolvendo Darth Vader e Obi-Wan, e como Reva poderia permitir que o personagem de McGregor tivesse "alguém para derrotar ou alguém para salvar:"
"… Nós sempre fomos confrontados com o fato de que Obi-Wan nunca poderia matar Darth Vader. Então ele precisava derrotar alguém. E então Reva foi minha tentativa de dar a ele alguém para derrotar ou alguém para salvar, porque ele não vai salve Darth. O enredo de Darth Vader vai acabar em uma desgraça, então eu queria salvar alguém, e é por isso que eu criei Reva."
Alguns fãs fizeram a comparação entre a Terceira Irmã com uma de suas colegas inquisidoras, a Segunda Irmã, de Jedi: Ordem Caída, que tem uma história de fundo e arco semelhante a Reva.
Quando perguntada sobre a possível conexão de Reva com Trilla Suduri, Beattie revelou que a Terceira Irmã foi criada antes mesmo do lançamento do videogame:
"Então eu não tinha jogado Fallen Order. Eu escrevi isso inicialmente em 2017, então isso foi antes de eu jogar Fallen Order. Eu então joguei Fallen Order e fiquei tipo, 'Oh, uau, essa é a Reva!' Não, olhe, é apenas coincidência. Eu queria criar um novo personagem porque não queria estar vinculado a nenhum cânone com nenhum dos outros que já foram discutidos. E queria liberdade para levá-la aonde eu quisesse. ela. Então é por isso que eu a criei, para esta história. E essa é a outra coisa também, nós já estamos usando tantos personagens no cânone estabelecido com Obi, Darth, Owen, Beru… Então eu estava procurando criar alguém novo . Eu até tinha Cody em mente. Você sabe, então eu estava procurando criar alguém novo."
A sobrevivência de Reva confirma a segunda temporada de Obi-Wan Kenobi?
Agora que foi revelado que Reva iria originalmente se sacrificar por Obi-Wan e ser morta por Darth Vader, a mudança para mantê-la viva pode estar sugerindo que haverá uma segunda temporada.
Muitos fãs esperavam que ela fosse morta nas mãos de Vader ou do Grande Inquisidor no episódio final do programa. Mas como ela nem teve outra interação com nenhum dos personagens e foi dispensada por Obi-Wan, fica claro que ela tem mais em sua história.
Se houver uma 2ª temporada de Obi wan Kenobi, Reva provavelmente estará junto para o passeio. Ela agora construiu um relacionamento com Obi-Wan e provavelmente viria em seu auxílio se ele precisasse de ajuda, proporcionando uma oportunidade para ela provar a ele.
O fato de Beattie também mencionar brevemente que o Comandante Cody estava em consideração potencialmente adiciona credibilidade aos rumores anteriores de que o soldado Clone estava programado para aparecer no programa. Talvez esses pensamentos sejam levados em consideração se a Lucasfilm decidir trazer o show de volta para uma segunda rodada.
Por enquanto, Obi wan Kenobi está sendo transmitido agora no Disney +.